Misc.
How to "charge" public space?
Discussion with Yoshiharu Tsukamoto (Atelier Bow-Wow)
(autotranslated)
The announcement of the Contemporary Architecture and Art Triennial: "The Japanese artist Yoshiharu Tsukamoto is one of the notable figures. He made earlier temporary artworks in New York, Berlin and Mumbai. Now he's up to do something with the canals… "
"When I first visited Bruges, I heard of the first swimmers on the canals. It shot right away an idea to do something with it. I plan to make a big platform where residents, but also tourists can jump into the canals. It will be something very nice."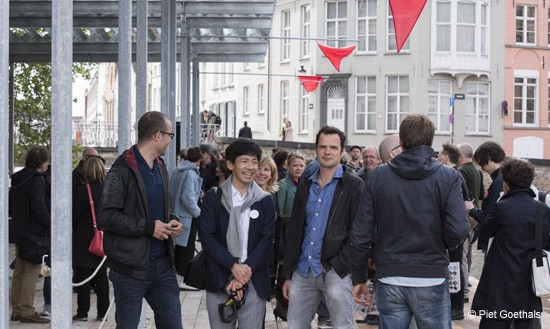 The Japanese office Atelier Bow-Wow, one of the most popular architecture practices today, pumping in a unique way social life in the public space. When Momoyo Kaijima and Yoshiharu Tsukamoto be invited to an art exhibition, they create a "micro public space 'with the context and framework. They observe the city, the site and see how people behave in this public space. Based on these observations, they design an urban intervention, thereby new behavior in the town are trying to create, encourage a new awareness and participation of the active user.
By adding a layer to the public space, the architects create a platform to intensify the social life through human action and interaction to encourage the area. These "micro public spaces' construct situations rather than objects, and do it as generously as possible to have diverse and unexpected events occur. Especially within the context of the Triennial the architects succeed in it, right in the overregulated historic center of Bruges, generating a sanctuary. The platform was realized in cooperation with the Bruges architect Thirteen 12. It is a floating structure on the canals which can accommodate a variety of multifunctional meeting times and activities. Thus, the members of swimming clubs make use of it to jump into the water, while other parts of the infrastructure to offer space for lectures, exhibitions and entertainment.
Yoshiharu Tsukamoto come to Bruges on August 1 to hand himself to take a dip in the water from the platform, and the other in the evening for the wider public to give his unique vision on dealing with urban public space.
Yoshiharu Tsukamoto (Atelier Bow-Wow, Japan) also gives a "(external) lecture on his own work": http: //archipelvzw.be/nl/agenda/507/atelier-bow-wow at the Concertgebouw Brugge on Sunday, October 18th 2015 at 20h, following the conclusion of Contemporary Art and Architecture Triennale 2015 Brugge.