Lecture
Living Closer
On top, in between, behind, below
Intro
Lucas Desmet

BRUT

architecture / urbanism
Speakers
Fallow
Jean-Benoît Vetillard

VVV
Sans Souci by Fallow is a project that seeks to question conventional housing and look for an affordable housing model that encourages social contact and encourages a shift to a sharing economy. In 2018, two late twenty-somethings looking to settle in Brussels found each other on Facebook and joined forces to buy a home together. An interaction between private and collective that can reimagine the use and program of classic row houses.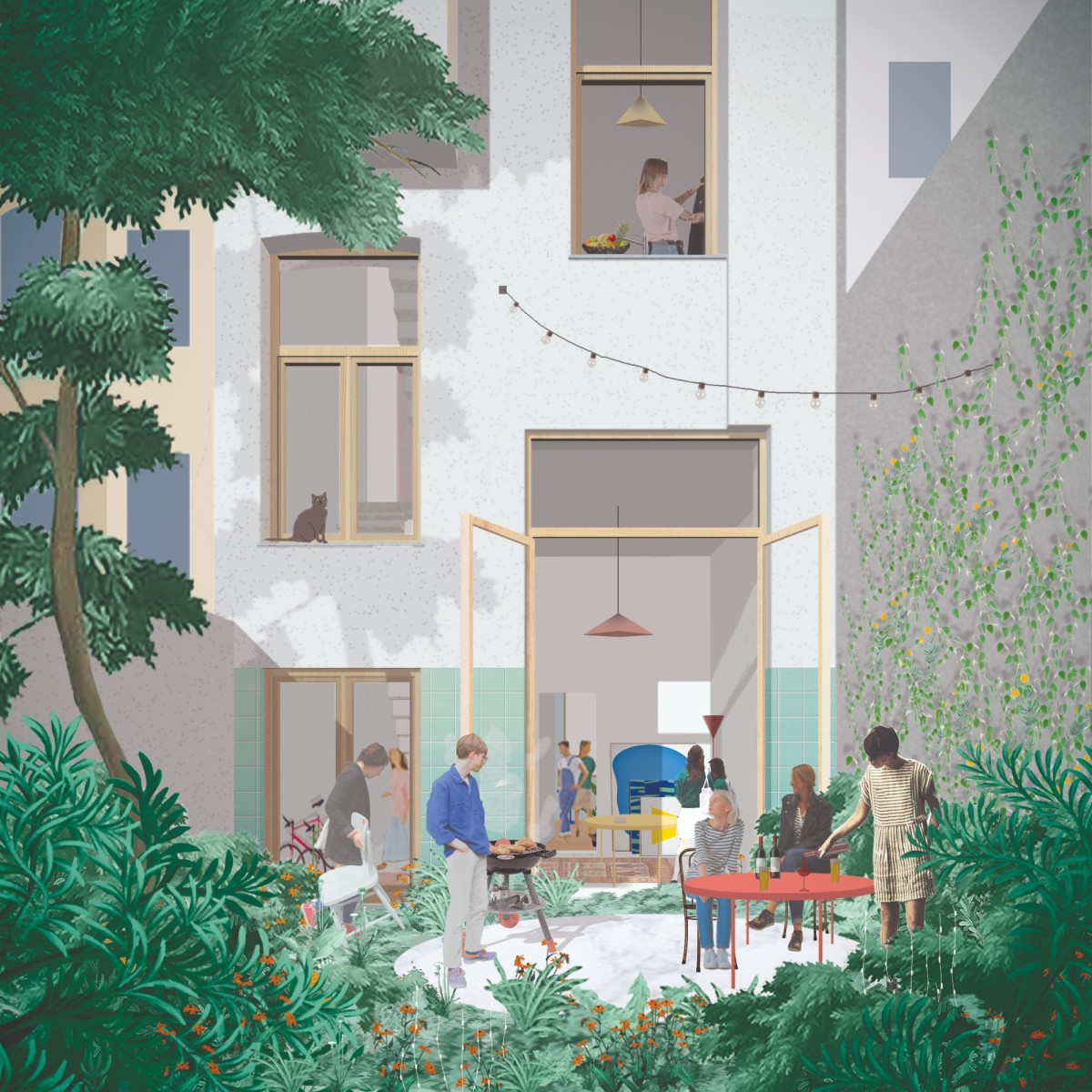 Appartment BDD was designed by Parisian architect Jean-Benoît Vétillard. The total transformation of an apartment aspires to change the owner's life. It is a reflection with the builder on the ergonomics of the rest spaces, the "daily rooms," the generosity of the luminous common space, the creation of a landscape, an "open valley" above the kitchen, with storage spaces below. No walls, only walkable surfaces.
Giami Meloni



Maison Kangourou by VVV architects reflects on habitability as "variable geometry," allowing flexibility between communal and private spaces, allowing multiple residents to live together. By enveloping a series of spaces – the balcony, the winter garden, the terrace, the solarium – in a single material, zinc cladding, the project brings unity to the rear façade, which in Brussels is often characterized by an additive and disordered accumulation of outbuildings and annexes.
Lucas Desmet
Lucas Desmet introduces the term "Living Closer" as an alternative to "densification" in his 2021 thesis.
Projects that densify while focussing on more pleasant living fall under this category. Instead of densifying for ideological reasons, for society, for the climate or for the elderly – in short, because we have to – densification can also bring benefits to residents and the neighbourhood. The focus of densification is transformed from quantitative to qualitative place-making. Living more densely, while living more spaciously.
Lucas Desmet
Lucas obtained his master's degree in Engineering and Architecture at UGent in 2021, majoring in architecture and urban development. His thesis examined how one can densify qualitatively in Flemish villages.
During his studies, he collaborated on the development of the 'Toolbox Dorpse Architectuur' in cooperation with AR-TUR, the centre for architecture and urbanism in the Kempen. The toolbox shows, with a range of examples and project stories, village figures, and tactics, how collective living in villages can be improved.
After graduating, he went to work for Architecture Workroom Brussels, a cultural innovation house for the transformation of the social and physical living environment. Here, he researched how the energy transition could be steered in the right direction and how we could turn all our neighbourhoods into Positive Energy Districts. He also worked on the project 'Rotterdam's Urban Management for the Future', where he explored how the departments of Urban Design and Urban Management could work together more efficiently in order to achieve gains in the management and design of public space.
Since February 2022, Lucas has been working at BRUT. Here he has been involved in the development of the former industrial site Lips in Boortmeerbeek into appropriate and village-like multifamily housing.