Lecture
Grafton Architects (IE)
Own work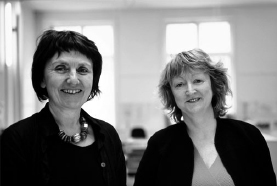 Yvonne Farrell en Shelley McNamara geven met hun gevoelige kijk op hedendaagse architectuur en de no-nonsense aanpak die hun bureau eigen is, vorm aan emblematische gebouwen die verrassen door hun frisse ruimtelijke kwaliteiten.
Yvonne Farrell en Shelley McNamara studeerden af aan de School of Architecture in University College Dublin in 1974, waar ze beiden ook doceren sedert 1976. In 1978 stichtten ze Grafton Architects en waren tevens stichtende leden van de Group '91 Architects die de international wedstrijd voor het regeneren van de wijk Temple Bar wonnen. Het werk van Grafton Architects  omvat educatieve gebouwen van het Trinity College en University College in Dublin en de University van Limerick; het Solstice Arts Centre, Navan, Meath County; Government Department offices in Dublin; en talrijke Department of Education & Science schools.
In 2008 won Grafton Architects de 'World Building of the Year Award' voor het Luigi Bocconi Universiteitsproject in Milaan en stond het gebouw op de shortlist voor de Mies van der Rohe award 2009.Yvonne Farrell and Shelley McNamara ontvingen de RIBA International Fellowships in 2010. Zowel Yvonne and Shelley doceren wereldwijd en zijn gastprofessoren aan de Accademia di Architettura, Mendrisio en de Graduate School of Design, Harvard.
Andere prijzen zijn nog de Architectural Association of Ireland Downes Medal, prijzen van het Royal Institute of Architects of Ireland, OPUS Architecture en Construction Awards, en talrijke shortlists voor prijzen als 'European Union Prize for Contemporary Architecture.'
Hun werk wordt wereldwijd gepubliceerd in tijdschriften en in jaarboeken en tevens tentoongesteld: Royal Institute of Architects of Ireland Exhibition Centre in 1999; Milan Urban Centre 2002; Mies van der Rohe Award Exhibition 2003; Bergamo and Rome 2006; Dessa Gallery; Ljubjiana 2006; Lisbon Triennale 2007; en de Biennale in Venetië 2002 en 2008.