Lecture
Brick culture in Nordic/Scandinavian Architecture
By Thomas Bo Jensen (DK)
Campus Sint-Lucas Gent - Auditorium A4
Bricks are known as a building material in Denmark and indeed throughout Scandinavia over the past 900 years. The longevity and the fact that the materials are combustible, which made brick gradually replaced wooden houses in the cities. One can find a wide range of architectural history in brick in the High North, and particularly in the south of Sweden and Denmark.
Exner Saedden Kirke
(autotranslated) This lecture deals with the modern Danish brick tradition from P.V.Jensen Klint (1853-1930) who built the great Grundtvig church. Then some functionalist / modernist architects are treated, Kay Fisker (1893-1965) who built the University of Aarhus and Danish Institute in Rome, and which also inspired many contemporary Swiss architects; Arne Jacobsen who built a range of modern family homes in the 30 and 40; Inger Augusta Exner (1926) and Johannes Exner (1926) whose architect couple built several churches and the castle Koldinghus renovating, for which she received the Europa Nostra award in 1994; Jorn Utzon (1918-2008) which – obviously known from the Sydney Opera House – the magnificent Bagsvaerd Kirke designed in 1968-76, as well as his own home and knew patio homes in yellow brick. Finally, we arrive via the brick sculptures by Per Kirkeby (1938) at the contemporary applications of brick in architecture.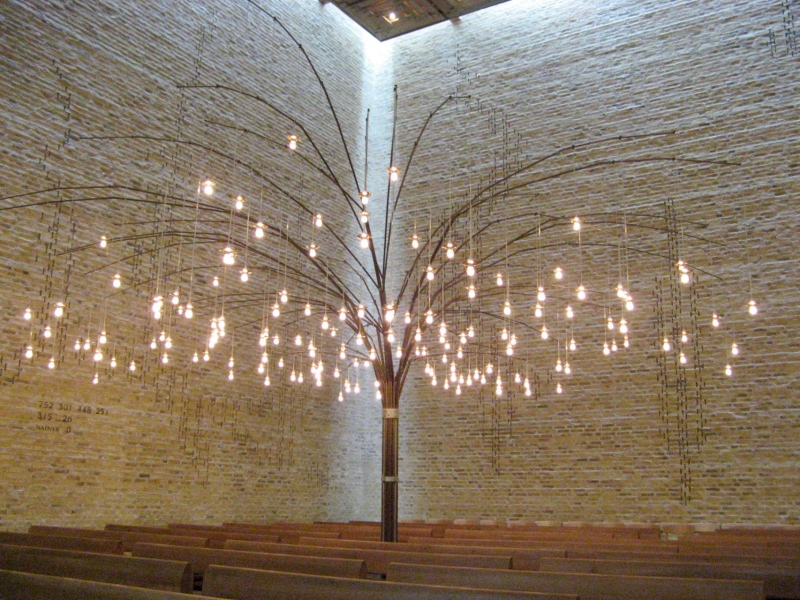 Exner Norrelandskirke
Particular attention will be paid to the influences between Denmark and Sweden, among others with architect Sigurd Lewerentz (1885-1975) as a key figure for many Scandinavian architects.
Finally, Thomas Bo Jensen (Royal Danish Academy Denmark) are examples of his own research on the basis of brick work show, as well as some works by his students at the Royal Danish Academy of Fine Arts, School of Architecture.