Lecture
Modular / circular living
Experimental housing, living, construction.
Intro
Aurelie De Smet (KU Leuven)
Speakers
Mosard vzw
B+ architects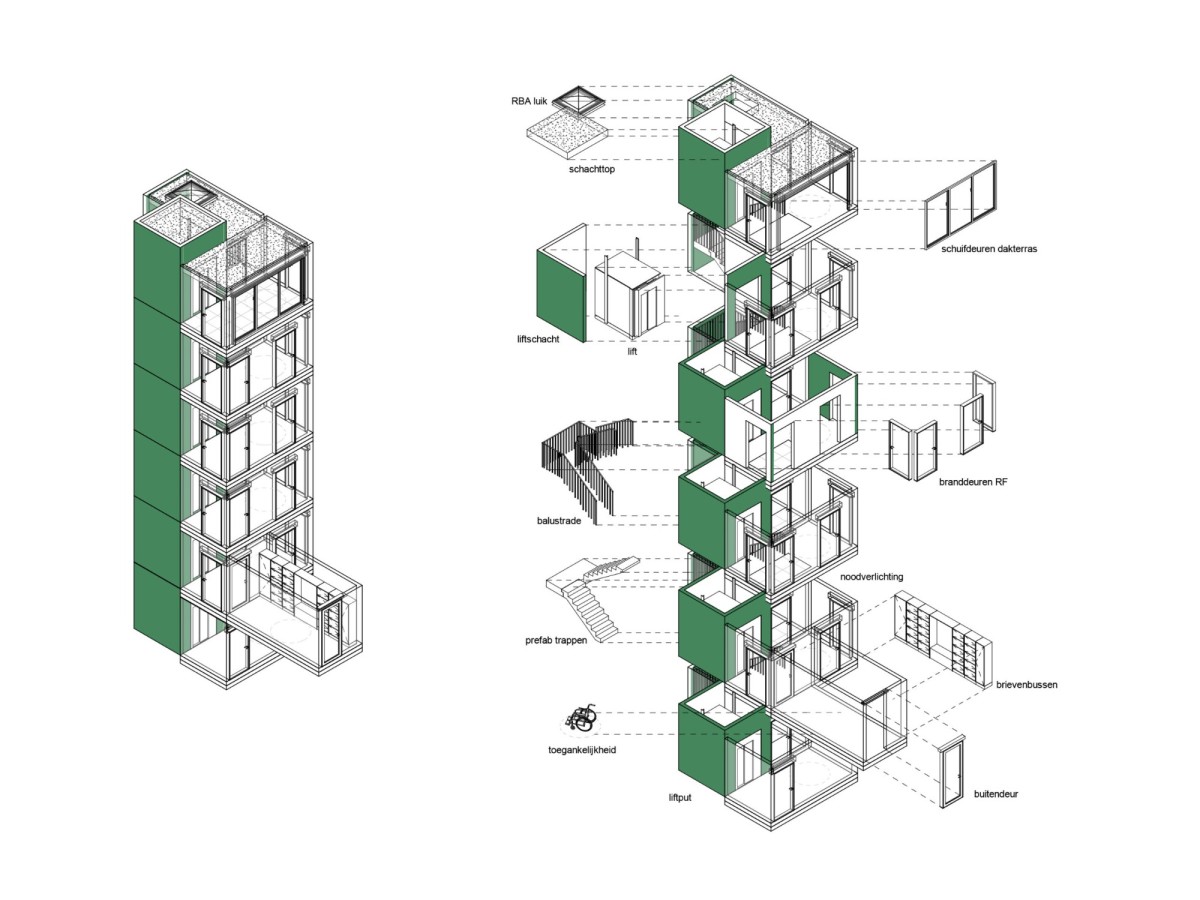 Mosard vzw | Traphallen


Mosard vzw | B+ architects
From his position as an architect, Ruben Braeken, partner of B+architecten, felt the need to coordinate different building systems more intelligently. Together with others, he started Mosard vzw in order to tackle this research systematically. Mosard stands for 'Modular Open System for ARchitectural Design' and is an open building standard and the instrument for compatible design and construction. Mosard believes in a world where change-oriented and affordable construction becomes the standard. The basis is a unified sizing system for modular design and construction components, with the aim of making design, construction and (adaptive) living more efficiently compatible. B+ Architects brings the system into practice with their designs. They are a multidisciplinary team of designers that strives for sustainable designs with added value and a positive impact on society and planet. How far can the concept of modular housing lead us?
Dennis De Smet b+ architecten | Sint-Albertus



Dennis De Smet b+ architecten | Sint-Albertus



Mosard vzw |
modular building parts


Aurelie de Smet
Through her implication in the pilot project Mobile Living in Solidarity, Aurelie de Smet has one eye on the practice of modular construction and prefabrication of housing. Researching this led her past several examples in the history of modular construction. She frames the cases in the long history of experimental building methods for housing. Prefab and modular construction boomed during the European reconstruction years after World War II and still has many applications where high speed and low cost are decisive, but it has not yet become mainstream: why is this? And will that change in the future now that the copy/paste function makes modular thinking – or at least drawing – a lot easier?
Ruben Braeken is an architect. He received his master's degree from Hasselt University in 2006. Heis a passionate researcher of sustainable building methods, with a focus on circular systems. After his internship and a few years at different offices (including Bart Lens architects and Spectrum), he started B+ architects, with exactly this focus. In 2019, he founded Mosard vzw with Johny Verstegen, to create an open space for research on circular building systems. Meanwhile, he is engaged in numerous public roles and is, among other things, a member of the municipal committee on spatial planning (gecoro) for Genk, council member at the Order of Architects for the province of Limburg and target group leader 'Knowledge and Innovation' at Netwerk Architecten Vlaanderen (NAV).
Aurelie de Smet graduated as an Urban Planner from Ghent University in 2007, after which she embarked on a diverse career going from practice to academic research. In 2014, she co-founded the knowledge centre tuin+, which focuses on the Flemish and Brussels 'garden landscape' at the Landscape and Garden Architecture faculty at the Erasmus Hogeschool Brussels. As a PhD researcher at KU Leuven's Faculty of Architecture, she worked on the research 'Solidair Mobiel Wonen', which not only looks at this form of housing from an academic angle, but also tests the concept in practice via a pilot project and prototyping. Aurelie obtained her PhD in 2022, since then she has been working as a researcher for KU Leuven.