Trip
Backpacking through Japan
An adventurous backpack trip full of architecture
Archipel invites you to this second edition of the adventurous and popular backpack trip to Japan. The program of th 2019 trip has been supplemented with recently completed projects.
The city of Kyoto functioned as the imperial capital for over a thousand years and is currently known as one of the highlights of heritage in the world. You will get to know Japanese culture through Buddhist temples, Shinto shrines and gardens that capture the imagination, you can also visit the work of contemporary architects, such as Tadao Ando and Yoshio Taniguchi.
After immersing ourselves in traditional architecture, we head via the important port city of Kobe to the art islands in the Setouchi Sea where we stay for a couple of nights. On the islands Naoshima, Teshima and Inujima, we will discover installations that explore the border between art, architecture and nature; works by Rei Naito, Hiroshi Sambuichi, Ryue Nishizawa, Hiroshi Sugimoto, Kazuyo Sejima and Yayoi Kusama.
Next, the famous bullet train, the Shinkansen, takes us to Japan's mountain region, where we stop in Karuizawa to experience in sublime lightness the works of Hiroshi Senju in a setting designed by Ryue Nishizawa. Deeper into nature awaits the fabulous Biotope Garden of Junya Ishigami in Nasu.
On this high wave, we surf on to Tokyo in a matter of time. This city is not only the home of Japanese pop culture and the host city of the Olympic Games, it also has the highest concentration of buildings by iconic architects per square meter. We visit fantastic works by known and lesser known architects; Toyo Ito, Sou Fujimoto and Kengo Kuma. With this climax, the guided part of the trip is over and travelers are free to explore Japan further.
The number of participants is limited to 20 people per group. The comfort is modest and every sustainable form of mobility is covered; (fast) train, ferry, metro and bicycle. Travelers carry their luggage during the trip. The group stays in hostels and traditional guesthouses. The three groups are accompanied by enthusiastic Japan experts Hera Van Sande, Arnaud Tandt and Eva Lo.
Arnout Fonck Kanagawa Institute of Technology
Junya Ishigami, 2008



Arnout Fonck Tofuku-ji Hojo


Arnout Fonck Yokahama waterfront



Arnout Fonck Nakanotani gazebo, rabbit chairs Kazuyo Sejima, chairs by SANAA
Arnout Fonck Cloud like pavilion
SANAA, 2017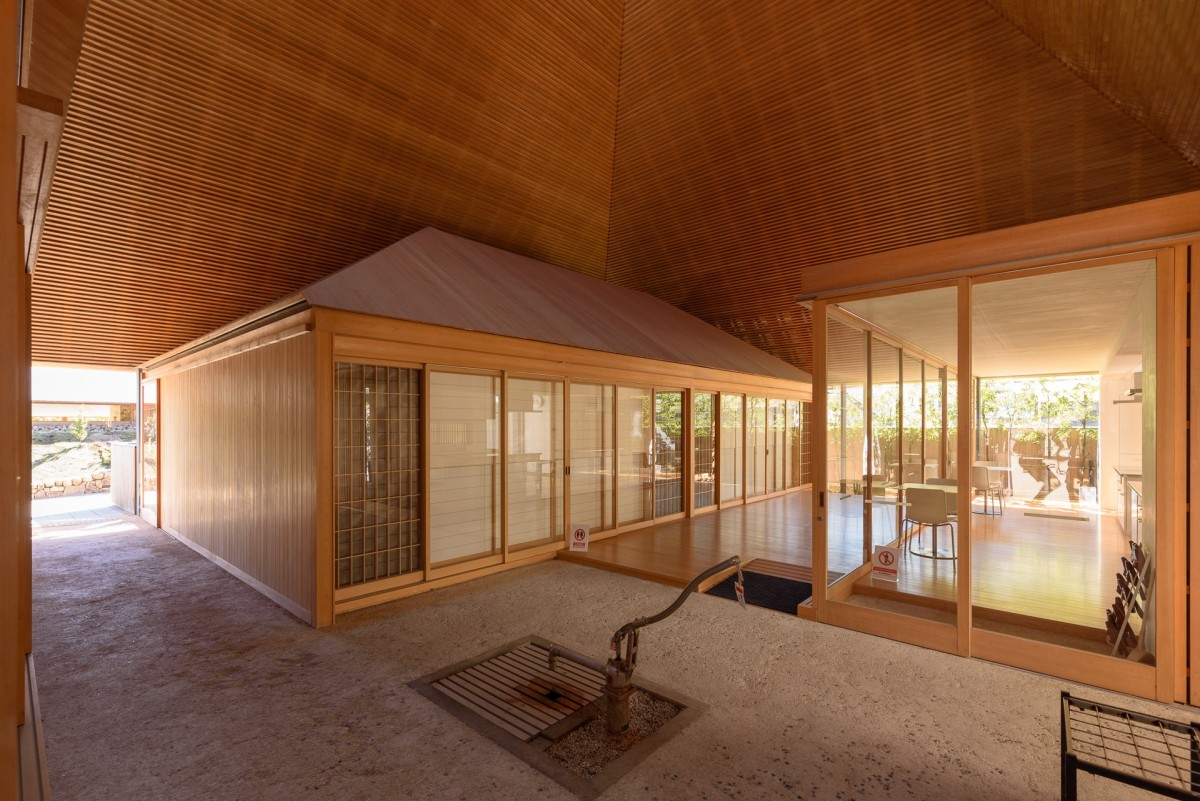 Arnout Fonck Naoshima Hall
Hiroshi Sambuichi, 2015


Programme
Kyoto
Kinkaku-ji golden temple
Ryoan-ji temple and rock garden
Tofuku-ji
Fushimi Inari
Kyoto station – Hiroshi Hara, 1997
Ni-jo castle
Okochi Sanso villa
Arashiyama bamboo grove
On the road…
Takenaka Carpentry Museum – Takenaka Corporation, 2014
Okayama pavilions – SANAA, 2015
Art islands
Inujima Seirensho Art Museum – kunstenaar Yukinori Yanagi & architect Hiroshi Sambuichi, 2008
Art House Project Inujima – verschillende kunstenaars, architect Kazuyo Sejima, 2010-…
Teshima Art Museum – kunstenares Rei Naito & architect Ryue Nishizawa, 2010
Chichu Art Museum – Tadao Ando, 2004
Art House Project Naoshima – verschillende kunstenaars, 1998-…
Naoshima Ferry Terminal – SANAA, 2006
Naoshima Hall – Hiroshi Sambuichi, 2016
Karuizawa
Hiroshi Senju Museum – Ryue Nishizawa, 2011
Uchimura Kanzo concrete church – Kendrick Kellogg, 1988
St. Paul's church – Antonin Raymond, 1935
Tokyo | Yokohama
Okurayama Apartments – SANAA, 2006
KAIT – Kanagawa Institute of Technology – Junya Ishigami, 2008
Osanbashi Ferry Terminal – FOA, 1995
Museum of Western Art – Le Corbusier, 1959
Tokyo Bunka Kaikan – Kunio Maekawa, 1961
Gallery of Horyu-ji Treasures, Tokyo National Museum – Yoshio Taniguchi, 1999
Omotesando-dori
Yoyogi National Stadium, gymnasium 2 – Kenzo Tange, 1964
Program adjusted on March 20th, 2023. The program can still be adjusted.