Lecture
Ronan & Erwan Bouroullec (FR)
Architecture & Design
(autotranslated) The British designer Jasper Morrison described the work of Ronan and Erwan Bouroullec ever as "thoughtful and disciplined, with a genuine spirit and poetry." The two Breton brothers Ronan and Erwan Bouroullec, quickly became world famous with their groundbreaking design proposals. The brothers were also soon seen as the best that France brought forth in the field of contemporary design since Philippe Starck. Though they certainly do not compare themselves with the latter, because they themselves prefer subtlety over extravagance. Their designs feature also by a minimum of materials, shapes and colors.
Ronan Bouroullec (1971) and Erwan Bouroullec (1976) studied at the Ecole Nationale des Arts Décoratifs in Paris and the École des Beaux-Arts in Cergy-Pontoise. In 1999 they founded as equal partners in a design studio in Paris. The Bouroullecs are often described as' all-designers ", which prevails especially furniture. In addition to designing home and office furniture, vases, porcelain tableware, jewelery and diverse home accessories run their architectural projects like a red thread through their work.
Their designs are in production with international companies such as Cappellini, Ligne Roset, Habitat, Domeau & amp; Peres, Auhentics and Vitra. For the latter they made in 2004 to the 'Algue', one of their most unconventional products. With this kit consisting of organic twigs and algae, can be assembled temporary spaces and curtains in an impressive way. Their designs such as partitions, furniture systems and meeting tables function as flexible kits. Tables can be snapped together and partitions with Velcro to a room transformed.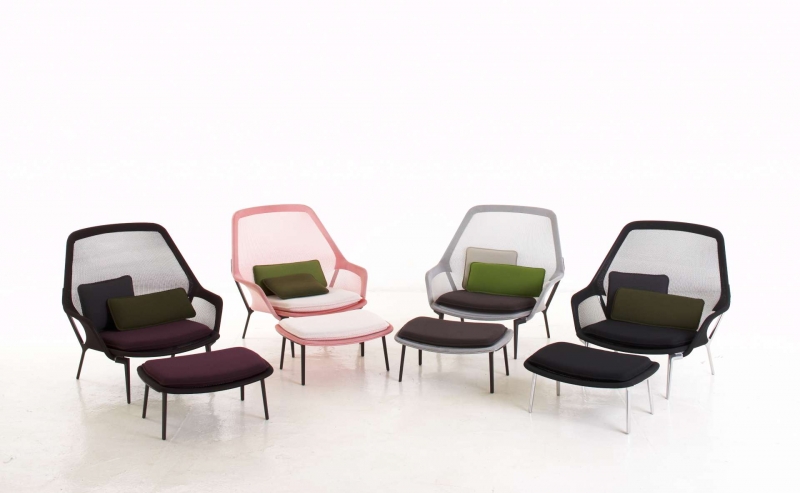 The work of the Bouroullecs has since been purchased by various museums and galleries such as the Design Museum in London, the Museum Boijmans Van Beuningen in Rotterdam and the gallery of Droog Design in Amsterdam. She also designed the interiors for Issey Miyake shop in Paris and the Galerie in Paris Kreo make them limited editions.