Visit
La biennale di Venezia '12
Common ground
Copyright Photograph by Martin Godwin
De Biënnale van Venetië is een toonaangevende internationale manifestatie rond architectuur. De Biënnale, waarvan het thema van deze dertiende editie 'Common ground' als titel meekreeg, vindt dit jaar plaats van 29 augustus tot 25 november 2012. Als eerste Brit in de geschiedenis van de Architectuurbiënnale van Venetië krijgt David Chipperfield de eer om de grootste architectuurtentoonstelling ter wereld te coördineren. Chipperfield ontving in 2011 de Mies Van Der Rohe Award voor de renovatie van het Neues Museum in Berlijn.
The ambition of the territory.
THE AMBITION OF THE TERRITORY
De inrichting van het Belgisch Paviljoen gebeurt door AWJGGRAUaDVVTAT! Uitdaging was om iets te ontwerpen rond de ruimtelijke en architecturale ontwikkeling van Vlaanderen in een Europese context. Het team bestaat uit de Architecture Workroom Brussels, grafisch ontwerper Joost Grootens, het Parijse stedenbouwkundige bureau Grau, architecten De Vylder Vinck Taillieu en kunstenaar Ante Timmerman. Vandaar de vlotte afkorting AWJGGRAUaDVVTAT. Het project "The Ambition of Territory" wil Vlaanderen voorstellen als een soort laboratoriumruimte voor de ruimtelijke toekomst van Europa.
Ook Toyo Ito is dit jaar vertegenwoordigd als curator van het Japanse paviljoen. Hij ontving tevens de Gouden Leeuw voor het landenpaviljoen. De tentoonstelling toont een denkproces omtrent de heropbouw van het vernielde gebied na de tsunami in 2011 en draagt de titel "Architecture. Possible here? Home-for-all". Drie jonge Japanse architecten Kumiko Inui, Sou Fujimoto en Akihisa Hirata werken samen aan de bouw van een gemeenschapshuis in het dorp Rikuzentaka.
Ook Robbrecht en Daem architecten en Marie-José Van Hee architecten werden uitgenodigd door curator David Chipperfield. De nieuwe stadshal en heraanleg van het Emile Braunplein te Gent wordt voorgesteld in het Arsenale.
De laureaten
De Gouden Leeuw voor het beste project gaat naar Alfredo Brillembourg, Urban-Think Tank, Iwan Baan & Justin McGuirk.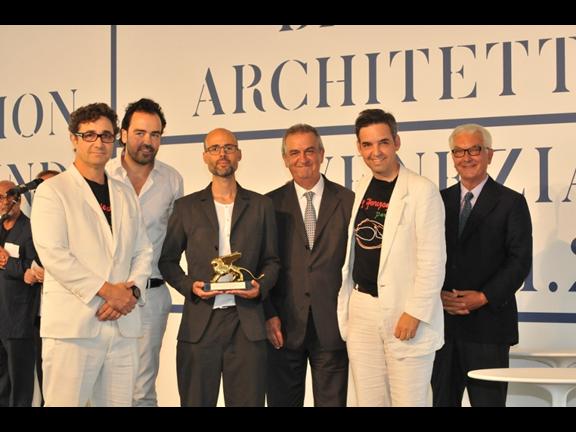 GOUDEN LEEUW Golden Lion for the Best Project (from left): Alfredo Brillembourg, Urban-Think Tank; Iwan Baan; Justin McGuirk; Lorenzo Ornaghi, Minister of Cultural Heritage and Activities; Hubert Klumpner, Urban-Think Tank; Paolo Baratta, President of la Biennale di Venezia (Photo: Giorgio Zucchiatti)
De Gouden Leeuw voor het beste Nationale Deelnemer gaat naar Toyo ITO, met medewerking van Sou Fujimoto en Akihisa Hirata en Kumiko Inui, voor het Japans Paviljoen.
GOUDEN LEEUW Golden Lion for Best National Participation (from left): Toyo Ito, Commissioner; Annamaria Cancellieri, Minister of the Interior; Paolo Baratta, President of la Biennale di Venezia (Photo: Giorgio Zucchiatti)
De Zilveren Leeuw gaat naar Grafton Architects
Silver Lion for a Promising Practice (from left): Wiel Arets, President of the Jury of the 13th International Architecture Exhibition; Shelley McNamara, Grafton Architects; Yvonne Farrell, Grafton Architects; Paolo Baratta, President of la Biennale di Venezia (Photo: Giorgio Zucchiatti)