Lecture
PechaKucha#5
Mastery with designers and furniture makers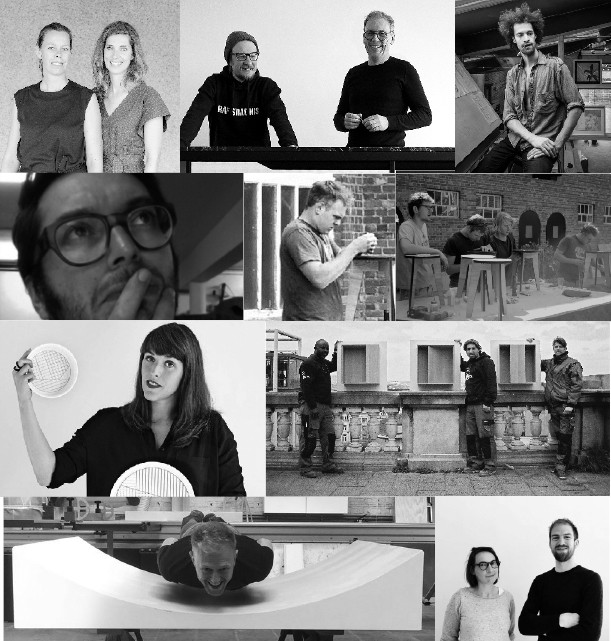 At Archipel, PechaKucha #5 becomes an anniversary edition. For this festive event we go to Tour & Taxis Brussels in cooperation with VOLA!
VOLA has been an important structural sponsor for Archipelago for many years. PechaKucha # 5 shows 'mastery' of designers and furniture makers and the VOLA products are a perfect example. VOLA and Archipel invited ten young interior architects and furniture makers to present their work in the beautiful and spectacular space of Tour & Taxis.
PechaKucha is a concept that originated in Japan in 2003 and has since been distributed worldwide. An explanation according to the PechaKucha concept means that speakers – each in 20 slides, 20 seconds per slide – tell what inspires them and what their vision is on the subject. In this way the audience is stimulated at a skilful pace with insights and ideas and this in a visual, to-the-point presentation. For the 2018 edition, ten young agencies have been asked to reflect on mastery, possibly on the basis of their work.
Atelier Alexandre Lowie translates craft into functional designs with the appearance of a piece of resistance. Each piece is made entirely by hand, and you see that. That love for traditional techniques shines through in elegant furniture, where they serve as a stamp of quality and savoir-faire. Details are therefore the red thread through the work of the Atelier.
In addition to series in limited editions, the Atelier also designs unique pieces to suit those who dare to opt for subtle grandeur – an uncompromising, daring piece that is later proudly passed on to the next generation. Luxury, certainly, but in the form of a perfect execution and sophisticated aesthetics.

We make design for life. The choice we make today is a choice for the future. That is why we prefer to work with sustainable materials. Not only for green sustainability, but also and especially for the choice for quality that lasts a lifetime.

'DERI3' is actually short for Ruben Deriemaeker – an appropriate moniker, since it contains the old-fashioned spelling for "maker."
I dream, design and build furniture translating my own vision into tangible objects. Working with the materials nature provides us with one of my greatest ambitions. Wood being my biggest love, because of its brutal honesty. It symbolizes the woods where we played as kids. And because I prize these woods, I believe in creating with as little waste as possible.

Fragmenture is based in Ghent, Belgium and founded in 2014 by architect Lies Van Kerckhove.
The studio specializes in interior and design. Projects are about re-approaching everyday products and spaces.
The interaction between imagination, concept and realization is central to Fragmenture's work.

We design with the logic of the Scandinavians and the sexiness of the Italians.
Tom Mares and Peter-Jan Scherpereel together form the designer duo PJMARES.
They make their own collection of sleek and timeless interiors and designs. They claim that their creations become more beautiful and therefore timeless thanks to natural materials that age beautifully, such as wood, steel, marble and leather.

SILO architecture studio is a young design studio consisting of Simon Anckaert and Lore Crabbé that focuses on architecture, interior and object.
They stand for creative & effective, passionate & enthusiastic, ana-elastic and intuitive.
SILO architecture studio brings contemporary and creative designs with a twist.
With an eye for detail and a well-thought-out choice of materials, innovative and tailor-made projects are designed, regardless of their scale.

Stal Collective is a collaboration between four young furniture designers who studied in Mechelen: Len de Paepe, Bob Segers, Tim Vranken and Jonas Blondeel.
This collective, which occured through common interest and friendship, wants to create timeless and honest pieces of furniture and lighting objects.
New ideas are conceived, prototyped and sometimes equally developed under one roof.

WOB is the umbrella name of the various parts within the design and carpentry company that was founded in 2013 by Tim Vranken. With a joiner's diploma and a diploma in furniture design (VOMO, Mechelen) in his pocket, he mainly concentrated his own strengths.
For example, WOB consists of WobWork, WorkPlaceWob and Wob'sDaysOut. Wobwork covers the collections, sprouted from the heart and soul of Tim Vranken and is therefore the design part of the company.

Our designs starts from stories and atmospheres.
They are architectural narratives.
Invitations and small gestures.
To use.
To open up an awareness to dialogue.
Or to disappear in ones own world.

Wrkshp se caractérise par:
- Inclusion, choice of variables variable, d'expertises choisies par projet et ceci, d'amont du processus de conception.
- une volonté d'expérimenter au level spatial et matériel (Maker Architects) remettant ainsi and question la linéarité conception-réalisation / thinker-maker.
- la conviction que les projets urbains comme le dessin the mobilier participant d'une même démarche, tournée la ville et l'usager.
- un attachement fort à l'espace et au travail sur les matériaux and le développement de stratégies en phase avec les enjeux de la commande, la limitation des ressources matérielles et les compétences disponibles.

From 27 September to 26 October 2018, work will also be exhibited by these PechaKucha participants in the Vola showroom.
Open from Monday to Thursday: 8.30 am to 12.30 pm – 1.30 pm to 5.00 pm
On Friday: 8.30 am to 12.30 pm – 1.30 pm to 3.00 pm
Closed on Saturday and Sunday
The above images have been supplied by the architectural firms. The copyright is either with them or with a photographer of their choice.
More info about the Pecha Kucha evening can be found at:
PechaKuchaGhent:Facebook | Twitter | Website
Archipel:Facebook