Trip
New York & surroundings
Surroundings & New York
New York & Surroundings – or better – Surroundings & New York.
About monuments and individuality. About the individue and monumentality.
Discovering. Feeling overwhelmed. Admire humble. Being strengthened.
The program for the Architecture trip of New York and surroundings New York 'or' surroundings and New York "- blows you away. Impressive names of twentieth century and 'monuments' of today pile up like skyscrapers: Fallingwater, the Glass House, Seagram building, Exeter Library, Milstein Hall, Parrish Art Museum, Julliard School … Architectural masters are everywhere: Frank Lloyd Wright, Philip Johnson, Ludwig Mies van der Rohe, Louis I. Kahn, OMA, Herzog & de Meuron, Diller Scofidio Renfro and more.
Arnout Fonck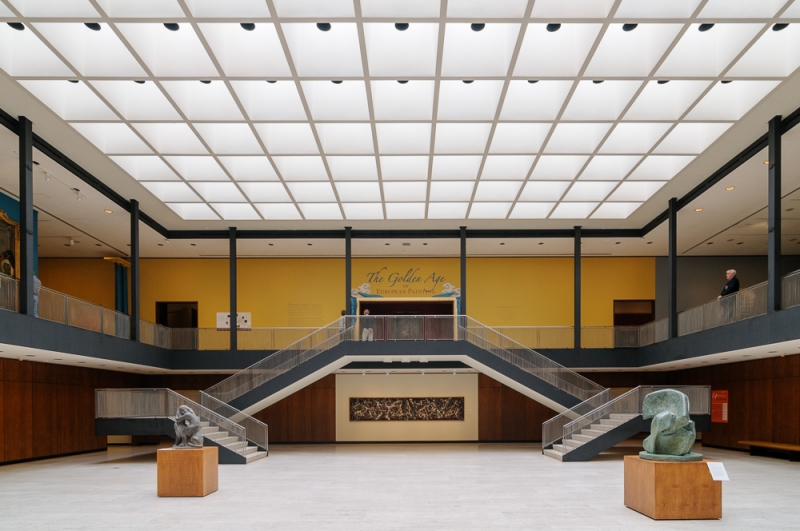 Arnout Fonck
Arnout Fonck From metropol to hinterland to the architecture study provides above all an awareness of monumentality with sometimes obvious, sometimes surprising connections with the public space. As in Europe, the Second World War, after all, also in the United States an important mark on architecture. Not only with regard to the immigration of European architects, but also about the distrust of liberal-minded for monuments characteristic of an anti-democratic and totalitarian regimes.
Therefore Josep Lluís Sert and Sigfried Giedion spent already by the end of the Second World War a new monumentality attention with their "Nine Points on Monumentality. "Human landmarks as symbolic centers of cities […] and as an expression of the highest cultural needs of humanity." Monumentality was thus a quality of architecture that are not necessarily with scale had to have to make, but with the intensity of expression. The finesse lay in addressing public buildings with the appropriate degree of presence, meaning and accessibility, often expressed as reinterpreted ceremonial urban space.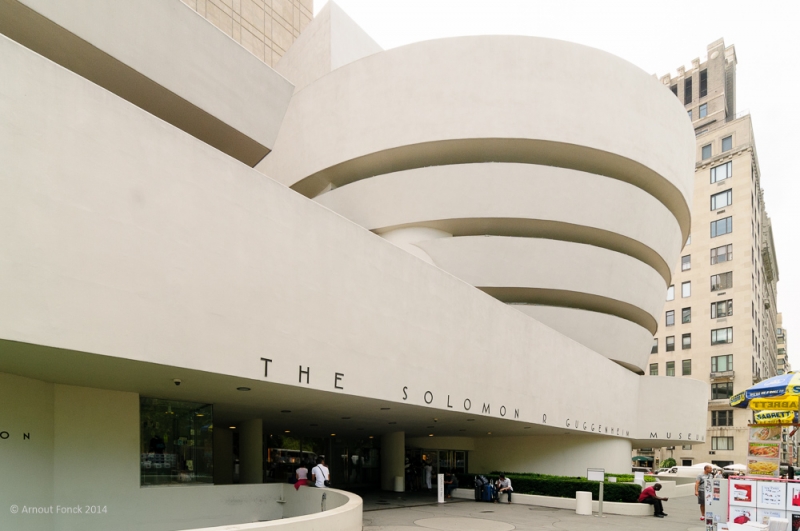 Arnout Fonck
The Brutal Hall of Boston from 1968 is an example of such a 'downtown skyscraper "in which the surrounding square using ramps, steps and terraces on the ground and first floors has been introduced. Authority and openness are designed using a visual heavyweight and active spatial penetrations. A theme that both the modernist and the contemporary projects of the travel program is strong. Not only within urban contexts, but also in the typical North American hinterland.
Undoubtedly offers Louis I. Kahn himself both for his public buildings and for its housing as the master of monumentality. He managed to tackle large-scale problems without falling into the excess. Its architecture was clearly imbued with a deep sense of the importance of the individual. Through this network to embrace intimate homes or overwhelm with natural light in eg. A library. Between metropolitan hectic pace and rhythm gesapige the average American, absorbed by the dominant travel theme of monumentality and urban space during this trip so important to discover the importance of the individual.
Discovering. Feeling overwhelmed. Admire humble. Being strengthened.
Dominique Pieters
Team: Annemie Demeulemeester, Arnout Fonck, Dominique Pieters & Bruno Vanbesien
Arnout Fonck
Programme
D1
Brussel
New York
TWA (JFK) Terminal – Eero Saarinen, 1956
New Haven
Temple Street parking garage – Paul Rudolph, 1961
Knights of Columbus building – Roche & Dinkeloo, 1969
D2
New Canaan
Glass house + site – Philip Johnson, 1949
Breuer-Robeck house – Marcel Bruer, 1947
Ault house – Eliot Noyes, 1952
James Evans house – James Evans, 1961
Boissonas house – Philip Johnson, 1956
D3
New Haven
Yale Art & Architecture building – Paul Rudolph, 1963
Yale Center for British Art – Louis Kahn, 1974
Morse and Ezra Stiles Colleges – Eero Saarinen 1962, Timberlake 2013
Ingalls hockey Rink – Eero Saarinen, 1958
Beinecke Rare Book & Manuscript Library – Gordon Bunshaft / SOM, 1963
Art Gallery – Louis Kahn, 1951
D4
Long Island
Parrish Art Museum – 2 – Herzog & de Meuron, 2010
Boston
Museum of Fine arts extension – Norman Foster, 1999
Christian Science Center – Ieoh Ming Pei, 1970
D5
Boston
Leverett library – Coolidge, Shepley, Bulfinch and Abbott
Carpenter Center – Le Corbusier, 1961
George Gund Hall, Harvard – John Andrews, 1972
Sert house – Josep Lluís Sert, 1957
MIT chapel – Eero Saarinen, 1955
Simmons Hall, MIT – Steven Holl, 1999
Baker House, MIT – Alvar Aalto, 1946
D6
Boston
Boston City Hall – Kallmann, McKinnell, & Knowles, 1962
ICA – 2 – Diller Scofidio Renfro, 2006
Lincoln
Gropius House – Walter Gropius, 1938
Exeter
Library + lunch hall – Louis Kahn, 1965
D7
Utica
Munson-Williams-Proctor Arts Institute – Philip Johnson, 1960
Hancock
Hancock Shaker Village 1774
D8
Ithaca
Milstein Hall Cornell University – OMA, 2006
Herbert F. Johnson Museum of Art – Ieoh Ming Pei, 1973
D9
Mill Run, Pennsylvania
Falling Water – Frank Lloyd Wright, 1935
Philadelphia
Erdman Hall Bryn Mawr College – Louis Kahn, 1963
D10
Philadelphia
Richards Medical Research center – Louis Kahn, 1957
Margaret Esherick house – Louis Kahn, 1961
Vanna Venturi house – Robert Venturi, 1962
Trenton
Jewish Community center / Trenton Bath house – Louis Kahn, 1955
New York
Four Freedoms Park – Louis Kahn, 1972-2010
D11
New York
TriBeCa Synagogue – William N Berger, 1967
Storefront – Steven Holl, 1992
40 Mercer st – Jean Nouvel
Scholastic Building – Aldo Rossi, 2001
University Village" – James Ingo Freed & Ieoh Ming Pei, 1966
Prada store – OMA, 2001
Camper store – Shigeru Ban
Sperone Westwater Gallery – Norman Foster, 2008
New Museum – SANAA, 2002
40 Bond Street – Herzog & de Meuron, 2004
Cooper Union art school – Morphosis, 2004
The Morgan Library extension – Renzo Piano, 2000
Grand Central terminal – Warren & Wetmore + Reed & Stem, 1904
D12
New York
Apple store 5th Av. – Bohlin Cywinski Jackson, 2006
Giorgio Armani boutique – Massimiliano & Doriana Fuksas, 2009
Valentino flagship store – David Chipperfield, 2014
MoMa – o.a. Yoshio Taniguchi, 2004
Whitney Museum – Marcel Breuer, 1966
Guggenheim Museum 1 – 2 – Frank Lloyd Wright, 1959
Lever building – SOM, 1952
Seagram building – Ludwig Mies Van der Rohe, 1954
D13
New York
the High Line – Diller Scofidio Renfro, 2009-2014
New Whitney Museum – Renzo Piano, 2015
9/11 memorial + Ground Zero – Davis Brody Bond, Daniel Libeskind, Calatrava, SOM, Snhetta… 2011
New Amsterdam Pavilion – UN studio, 2011
D14
New York
New York Times building – Renzo Piano, 2000
Hearst building – Norman Foster, 2000
Lincoln Center + Julliard School – o.a. Diller Scofidio Renfro, 2003
(Noguchi Museum – Isamu Noguchi)
(Columbia University NW-Corner Building – Rafael Moneo, Davis Brody Bond + Moneo Brock Studio, 2010)
(Flat Iron building – Daniel Burnham, 1902)
D15
New York
Judd Foundation
Pratt Institute – Steven Holl, 2005
MoMa PS1
Brussel