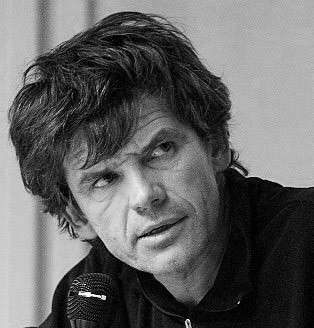 Wim Cuyvers (Hasselt, February 19, 1958) is a Flemish architect.
Cuyvers seeks, on the basis of linear and strict architecture to provide social conventions the prevailing form. This he likes to refer to the Belgian context. He sees this not as a typical historical or urban planning situation but rather sees this as a variegated collective memory which provided the right architectural interventions can be unlocked.
Cuyvers graduated in architecture at the Ghent Academy (1977-82). After his studies he worked in the United States at Preston Phillips and Venturi, Rauch and Scott Brown. He then worked as a trainee with Paul Robbrecht and Hilde Daem. He remained in the nineties collaborate occasionally with this agency. In 1984 he started his own firm in Ghent, where he architectural commissions and contest entries combined with studies about including Sarajevo and rest areas on motorways. He taught at the schools of architecture of Tilburg and the Eindhoven Design Academy and at St Luke's in Ghent. In 2000 he settled in the French Jura. He was up in 2008 as an advisory researcher at the Jan van Eyck Academy in Maastricht.